Brene Brown said it best "Vulnerability is not winning or losing; it's having the courage to show up and be seen when we have no control over the outcome."
When this article went live I had no idea what to expect or that so many news avenues from print, online and radio would pick it up!
All I want is for Yoga to be accessible to all walks of life, bring awareness and funds for mental health and most of all provide a safe space. And, to do so I've walked out with arms and heart open to share my story in hopes that saying these things out loud will maybe become part of someone else's survival guide.
---
You arrive at the studio, yoga mat under your arm and full of angst and stress so physically crippling that you think you're cursed by some sort of spiky inner demons. You haven't been able to easily shake them lately, but you're hopeful that through this practice you'll finally get some release.
This is unlike the quiet, controlled, and meditative spaces you've practiced in before; the yoga instructor cranks up Slayer while you strike a warrior pose. High amplified distortion, thick, aggressive sound, and extended guitar solos blot out the chatter of your inner thoughts, making room for relaxed mindfulness only metal yoga can serve.
"I find it a trip because the music is so intense and amazing that it's all you can think about," explains Jenine Lehfedt, owner of Sweet Serenity Yoga and Wellness Studio. "I have a harder time in a regular yoga class – I mean, I feel calm, but in metal yoga, all I concentrate on is the movement and the breath. It's the most present I've ever been in my own body, especially in Metal Barre Class you just push yourself to places you didn't know possible!"
The North Delta woman will be advocating for mental health and awareness by hosting NamaSlay Metal Barre at her studio from 6:30-7:30pm on Friday, August 27th. Proceeds from the event – which requires a $20 minimum donation – go toward Deltassist Family and Community Services Society (Deltassist), a non-profit organization that supports Delta residents through counseling and community-building workshops, events, senior support, outreach programs, and information services. Ins is donating her time to teach the class and support a message she strongly believes in that community matters, and no one is alone.
"Whether or not you're living with a mental illness, care for someone who is struggling with depression or anxiety, or simply just want to get involved, NamaSlay presents the opportunity to raise funds for mental health and have fun," Lehfeldt goes on to say. "We tell people to let go of the typical expectations; this class combines a powerful yet gentle yoga practice with energetic music to tear down the ego and establish a deeper connection with the self."
She's breaking down stigmas by publicly sharing her own story. The former TV and film hair and makeup artist expressed her creativity on set for years, until a freak accident turned her world upside down. She was electrocuted on the job, suffering damage to the ulnar nerve in her right hand, resulting in painful and irreversible damage to her dominant hand. After time off work to heal, and then further physical injury as she strained to perform her work left-handed, she had to face a hard-to-swallow reality: either she'd remain frustrated and demoted, or the career she'd worked so hard to establish was over.
Depression and alcoholism set in as she attempted to numb the pain and cope with what she saw as a hopeless situation; when that didn't work, she found herself planning her own death.
"It's the weirdest thing. People ask me, 'What the hell were you thinking?' and I clearly remember that it seemed like the best answer at the time; I felt at peace," she recalls. "I didn't want to be a burden to anyone else or to myself."
Lehfeldt was hospitalized, ended up in a psych ward, and was mandated to a recovery house, where she found yoga – and eventually a new career, business, and life.
Now the Yoga, Barre, and Zumba instructor offers a variety of classes and workshops out of Sweet Serenity, including fundraising events like NamaSlay and moon cycle gatherings for women.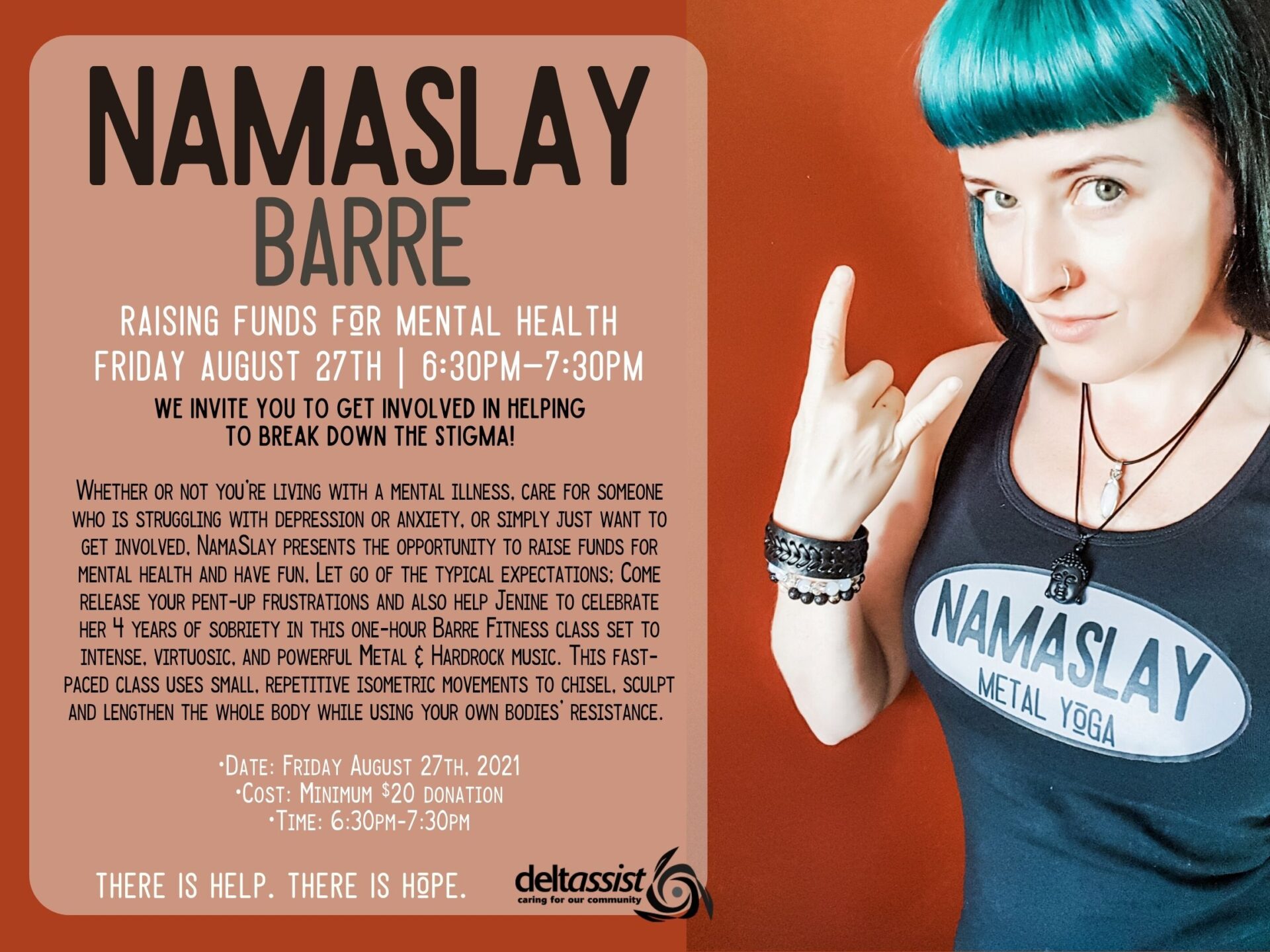 It's been nearly two years of sobriety and a struggle to find balance and stability, but Lehfeldt remains resilient in facing her demons; today she relies on help from a balanced diet, exercise, naturopathic medicine, and low-dose antidepressants to address her depression.
"So many people have similar stories to mine; from the outside, there's nothing obviously wrong with their lives, and everything appears tickety-boo," she explains. "But while most days are good, some days I can't get out of bed because my body feels like it weighs a thousand pounds."
She fidgets when people carelessly use the word addiction. "It's such a dirty word to describe something that's an uncontrollable chemical reaction in our bodies," she says. "I was afraid to fully share my story – I mean, there's a stigma in both parts, the mental health, and alcoholism, but I think that second part was harder for me; I'm still learning to be more open."
Lorraine Yates, manager of seniors and community services at Deltassist, empathizes with Lehfeldt.
"I think there needs to be more talk about mental health and addiction – and people need to give themselves a break," she adds. "People are really hard on themselves, but I think being able to talk about things openly brings understanding. Unless people go through these issues themselves or have a loved one who does, they don't understand how scary it can be."
From 2018-2019, Deltassist provided nearly 1,350 individual counseling sessions for around 140 clients dealing with substance abuse issues – a 20 percent increase from the year prior. In addition, the organization counseled approximately 50 teenagers seeking suicide prevention help.
While some services they provide are specifically geared towards youth, Yates says Deltassist advocates for everyone by connecting them with other organizations, like Delta Mental Health, when requests are outside of their program scope. Lehfeldt aims to further open the dialogue, raise awareness and funds, and provide a safe and welcoming space for all at her studio, no matter what they're going through.
On August 27th she'll be owning her identity boldly at the next installment of NamaSlay, rocking punky hair color and yoga pants adorned in colorful skulls paired with a Slipknot shirt. When the Pantera turns on, her mind is immersed in sound and she's reminded why she loves her new life. "I used to make people feel good from the outside, and now it's an inside job."