What is Yoga Therapy?
As defined by the IAYT (Education Standards for the Training of Yoga Therapists): "Yoga therapy is the process of empowering individuals to progress toward improved health and well-being through the application of the teachings and practices of Yoga."
Yoga Therapy sessions are designed to support the individual to find more ease and balance with their personal health challenges. Challenges can range from sleeplessness to chronic pain, anxiety and depression, grief, trauma, and so on.
Sessions begin with a thorough intake (completed and submitted in advance), a review of the intake, a postural assessment, which may also include a functional movement assessment. The client and Yoga Therapist explore various yoga techniques based on the needs of the client to support their healing journey. Recordings of practices and email follow-up will be provided.
---
Initial session (90mins): $125
Explore how yoga therapy can support your personal health challenge. Client intake review & exploration of yoga practices included.
---
3 Session Program; Initial session + 2 follow-ups (90min + 2 x 60min): $325
Intake review with posture and functional movement assessment. Explore how yoga therapy can support your health challenge through yoga practices and techniques, focused on your individual goals. Follow up, check-in, and adjust practices to support further healing. Recordings of practices and email follow-up.
---
Additional follow-up sessions for Yoga Therapy Program students (60mins): $110
---
Pain Care Yoga
Therapeutic Yoga for people with chronic pain
Pain is complex and unique to each person. Learn techniques to help change your pain, improve your mobility and strength, and ultimately find more joy.
Injuries and pain are a part of life. Sometimes the pain goes away quickly, but for many, pain can persist. Your pain may have gotten worse, in some cases reducing mobility and strength, limiting your abilities to participate in the activities that you love. Pain is complex and not as simple as a pill, or a single type of treatment.

Pain Care Yoga provides tools to gain greater awareness of your body and your pain. Techniques include breathing practices to help reduce your pain and regulate your nervous system, and exploration of safe movement practices that improve mobility, build strength and resilience. Practices are customized to the individual based on your intake form, functional movement assessment, and unique needs.

If you're curious about how yoga may help with your chronic pain – try a one-on-one session with Kerri Sumner; an experienced yoga instructor specializing in yoga for chronic pain, and a yoga therapist in training.
---
Intro to Pain Care Yoga session (90 mins): $125
Explore Pain Care Aware breathing techniques, and gentle movement. Practices will be customized to ensure accessibility based on your needs. Audio recordings of techniques explored during the session can be provided for home use.
---
Pain Care Program – 3 Private Sessions: $325
– Session 1 (90 mins): Initial assessment, pain science education, exploration of breath and awareness techniques.
– Session 2 (60 mins): Follow-up session including check-in, awareness and breath practices, movement and yoga exploration.
– Session 3 (60 mins): Personal Pain Care Program review and practice.
*Pain Care Program includes a plan to follow at home. Audio recordings of techniques and practices will be provided for the Pain Care Program.
---
Additional follow-up sessions for Pain Care Program students (60mins): $110
---
Trauma Sensitive Yoga
Explore grounding breath techniques and movement to help regulate your nervous system, regain connection with self, and find a sense of calm.
Unresolved trauma can remain stuck in the body and manifest in various forms – flashbacks, anxiety, fear, addiction, disconnection, challenge in relationships, and chronic pain.
Trauma-Sensitive Yoga (TSY) offers grounding practices and breath work, which can provide present-moment focus, and bring the nervous system out of fight/flight and back into balance. In TSY, choice is always provided, empowering the student to regain a sense of self and safety. Explore Trauma Sensitive Yoga to help reconnect with your body, regain a positive relationship with self and support your healing journey. TSY is a proven complementary treatment to talk therapy.
Individual Trauma-Sensitive Yoga Session (75 mins): $125
---
Get to know Kerri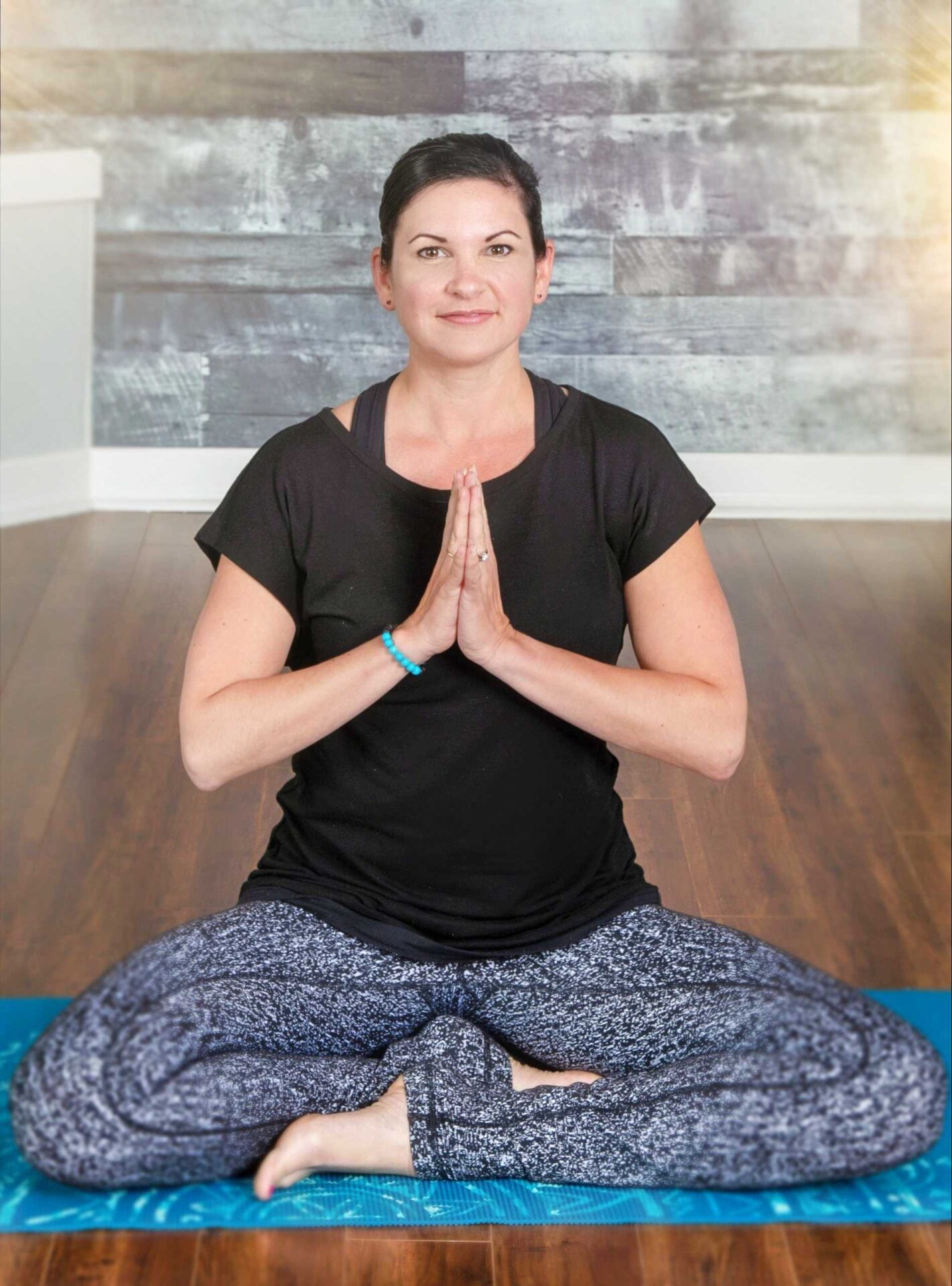 Kerri was first introduced to yoga in 2006 and quickly began to see the physical benefits that yoga offered, reducing years of chronic back pain. Yoga has supported her through many of life's challenges, including loss and PTSD, and continues to heal her heart.
Kerri is a 550hr certified instructor, with nearly a decade of teaching experience. She holds specialized training in therapeutic yoga for Chronic pain and Trauma, and continues to train in yoga therapy. She is passionate about supporting students' healing through yoga.
Her classes are clear and alignment-based, with a focus on mindful, breath-inspired movement. She believes that yoga should be accessible for everyone, and strives to empower students to use their practice as a tool to connect with themselves, finding more peace in this increasingly busy world.
Her relatability and humour provide a comfortable, safe space for students of all levels.