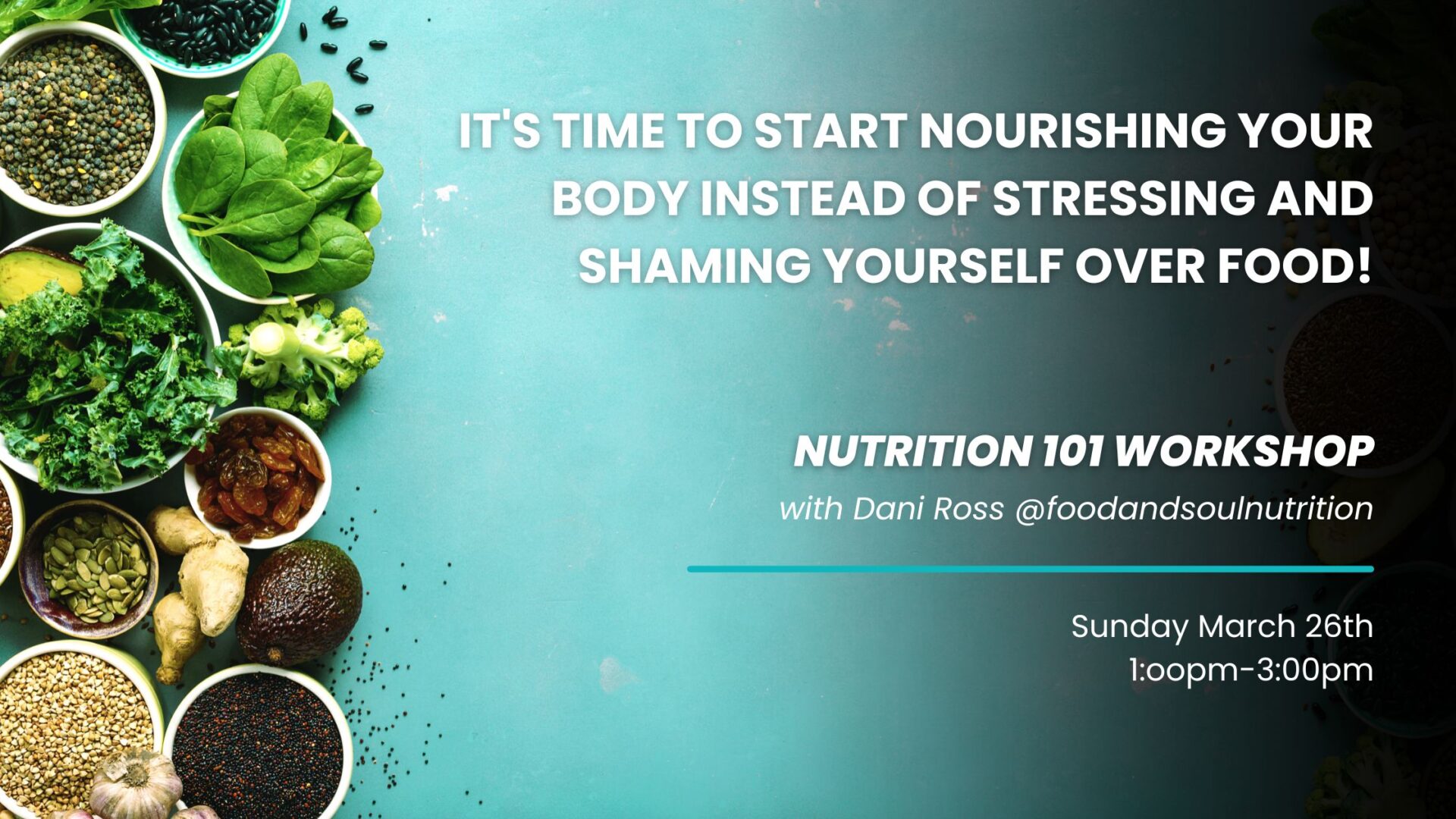 Want to improve your overall health and wellness but don't know where to start?
Are you ready to say goodbye to the endless cycle of diets and trend-hopping?
Join us for Nutrition 101, where we'll bust some myths and embrace the delicious truth about fats and carbs. (Yes, you read that right! There's more to carbs than just bread.) We'll also explore the importance of hydration, minerals, and supplements that will help you feel your best. And because life is expensive enough, we'll talk about budget-friendly options too.
Not only will you learn key principles of good nutrition, but by the end of the workshop, you'll have a new perspective on food. No more "good food vs. bad food". It's all about lovingly nourishing your body, and we'll give you the tools to make it happen. Let's leave the diet roller coaster behind and start enjoying food again.
Date: Sunday, March 26th
Time: 1:00pm-3:00pm
Cost:

Early bird until March 15th – $77+tax
Regular Price – $88+tax
---
Topics we'll cover:
1. Truth about Carbs and Fats: Why do our bodies need carbs, what do they do for us? What are carbs besides bread and potatoes? Did you know that every cell in your body needs fat? Saturated, unsaturated and trans fat, which one am I supposed to eat?
2. Hydration, minerals & supplements: How much water am I supposed to drink daily? Water, is it really that important? What vitamins and minerals can I get from my food, and what ones should I be supplementing? Does it matter what brands I buy? What should I be looking for when choosing a supplement?
3. Relationship with food say goodbye to "good vs. bad": Should I even be eating this? Do I need to cut out food groups? How do I eat for my body?
4. Balance / Sleep and my body: How your sleep cycle can impact your bodies stressors, blood sugar and weight gain/loss
5. Budget-friendly healthy eating: Budget-friendly grocery items, fresh vs. frozen, organic vs. inorganic
6. Stress, recovery (anti-inflammation): The effect that stress has on your body (blood sugars, sleep, inflammation, weight gain)
By participating in this workshop, you'll have the opportunity to learn the latest tips, tricks and tools to help you achieve optimal nutrition. Discover how to make the right food choices and get expert advice on creating a healthy, balanced lifestyle.
---
Sign up for our Nutrition 101 workshop and receive these exciting bonuses!
FullScript Account – Get 10% off all future purchases on FullScript, an online supplement dispensary that delivers top-quality supplements right to your doorstep.
Food and Soul Packages – Enjoy a 15% discount on one of our 1 or 3-month packages. You'll receive a personalized plan with a full intake process, a 1-hour nutritional consult, weekly meal plans, coaching calls, lifestyle suggestions, unlimited email support, and more!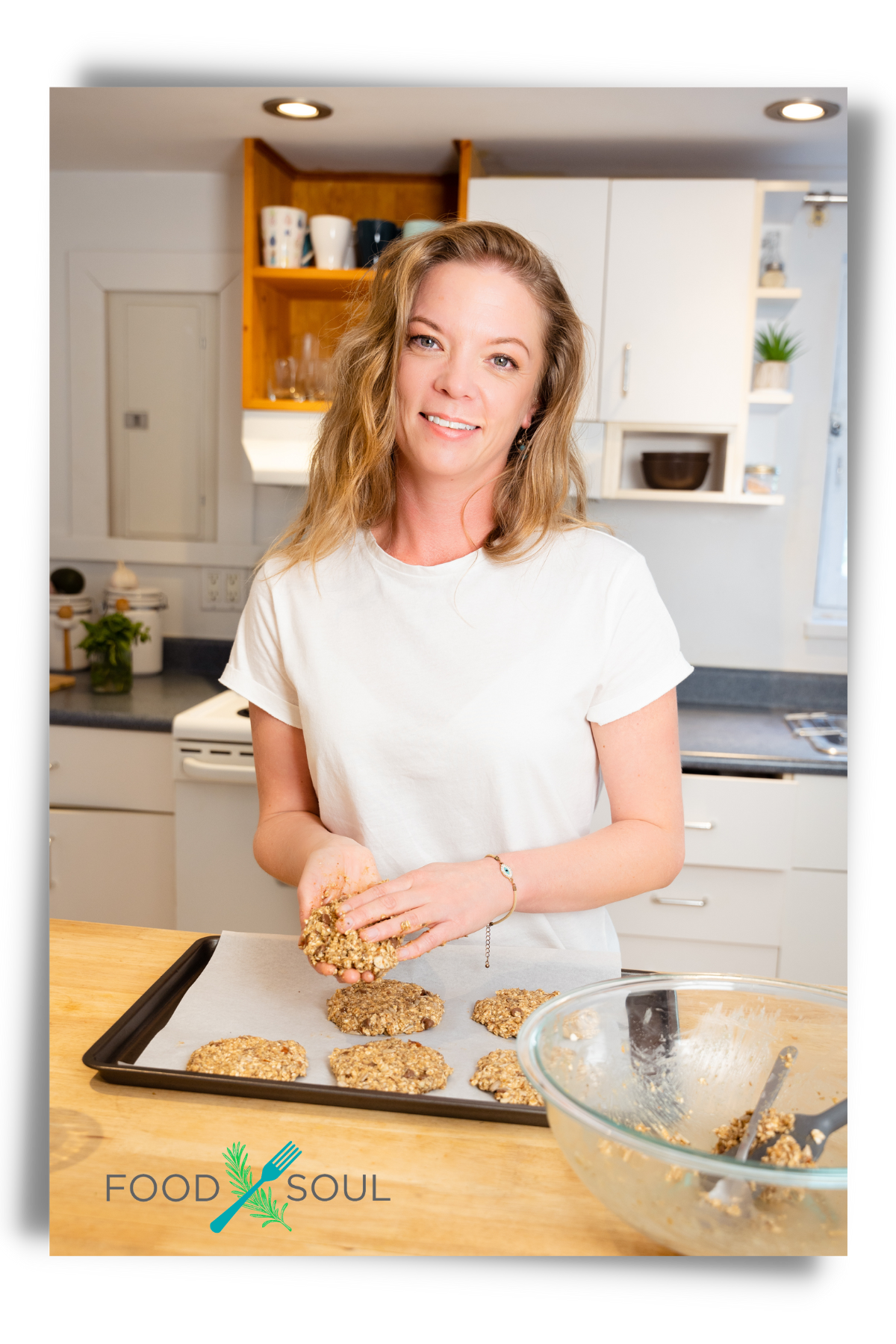 Hello, I'm Dani! I'm a Holistic Nutritionist who's graduated and registered with The Canadian School Of Natural Nutrition. I used to struggle with my self-worth and body image, trying to fit into society's idea of what being "fit and healthy" should look like. I would count calories, follow every new diet, and restrict myself from eating the foods I loved. It was a vicious cycle of deprivation and binge eating, which took a toll on my physical and mental health.
But one day, I hit rock bottom. I was burnt out, with no energy, trouble sleeping, and an unhealthy relationship with food. That's when I decided to make a change, focusing on small steps toward nourishing my body and managing my stress. I discovered the power of whole foods, mindful eating, positive body movement, and taking care of my mental health.
Now, I love and nurture my body every day. I eat a balanced diet of veggies, fruits, whole grains, and yes, even ice cream and chocolate. I move my body in ways that feel good, whether it's a gym workout, a walk, a swim, or yoga. I've learned to embrace self-care and have transformed my relationship with food and my body.
So, come join me on this journey of self-discovery and self-love! Let's work together to create a healthy and happy relationship with food and our bodies. Book a workshop or a private session with me, and let's start feeling the love in our bodies and souls!
Follow Dani on Social @foodandsoulnutrition