Curious about Barre?!? Barre infuses Pilates, dance, Yoga, and Functional fitness all while having fun!

Join owner and master trainer Jenine Lehfeldt introductory to Barre workshop which will teach you all the basics you need to know to take any of our Barre classes with confidence!

The session is available In-Studio* and will be virtually live-streamed for those who prefer to participate from the comfort of home.
Whether you are new to Barre or a Barre pro, this workshop will break down the components of our Barre classes at a beginner's pace. We will deconstruct the traditional Barre postures to help you understand the correct form for each exercise & the available modifications or enhancements to maximize your efforts and ensure the most body-positive results!

All you need is a yoga mat, comfortable clothes to move in, and an open mind!
Be sure to save your spot!
• Date: Sunday, June 11th, 2023
• Time: 12:00-2:30pm
•  Cost:
     • $49+tax for in-studio or option to live-streamed online from home. *BONUS First drop-in in-studio or online FREE! (please select in-person or online specifically when purchasing)
 
---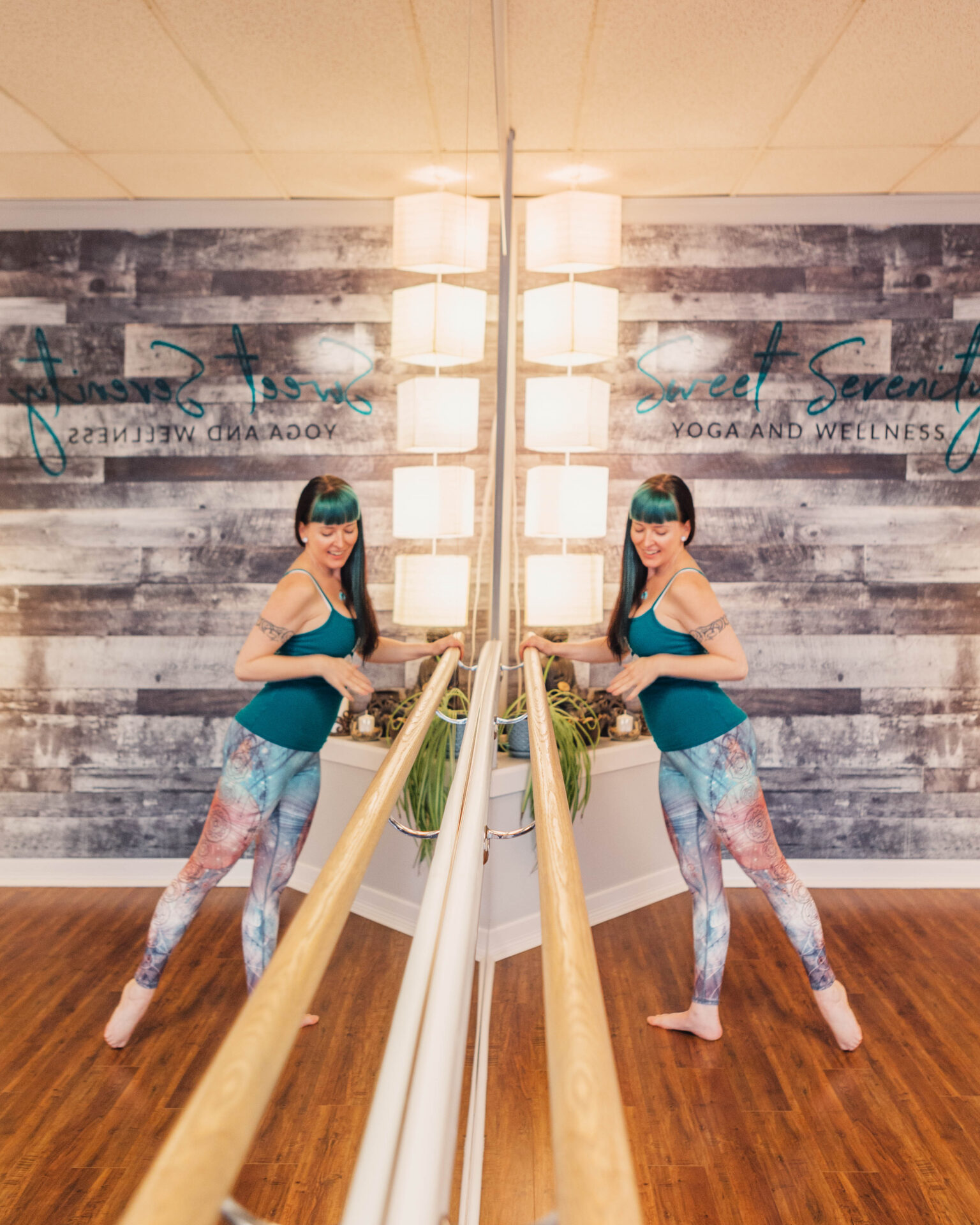 Jenine Lehfeldt – Barre Intensity Master Trainer
Meet Jenine Lehfeldt, the vibrant and passionate owner of Sweet Serenity Yoga and Wellness! As a North Delta local, Jenine has always been a fitness enthusiast. Her journey has led her to become a classically trained ballet dancer, a 500RYT Yoga, Barre and Zumba instructor, a Reiki Master, and the ONLY Barre Intensity master trainer in Canada! But that's not all; she's also an experienced entrepreneur and a bundle of positive energy!
After an injury forced her to reassess her career, Jenine left her 15-year-long TV & Film Hairstylist career and opened Sweet Serenity Yoga and Wellness. She knows firsthand the benefits of yoga and how it can transform your physique, mental health, and overall well-being. Jenine believes in the importance of personal wellness and mindfulness and wants to extend this to others by reminding her clients to take a breath and step back from the hustle and bustle of daily life.
Jenine's approach to fitness is refreshing and modern, emphasizing that physical activity shouldn't feel like a chore or drain but should bring energy and joy. She wants to dispel the misconception that yoga, Pilates, and Barre are only for tiny, flexible people and are less challenging than other workouts. For her, these practices are more than just bendy poses; they are states of mind that anyone can do.
Sweet Serenity Yoga and Wellness is more than just a studio; it's a community that values inclusivity and accepts you as you are, with no expectations. Jenine aims to enhance as many people's day as possible through fitness, nutrition, positivity, and music. And with her graduate degree from the Douglas College self-employment program and certifications in 500RYT Yoga, Barre Master Trainer in three modalities, Group Fitness, Zumba, Wellness Nutrition, Energy Medicine, and Reiki Master, she has the tools and knowledge to do just that!
Jenine's dedication to her clients is reflected in every aspect of her business model. She pays immaculate attention to every detail of the experience, making the transition to and from class smooth, stress-free, and fun! And the best part? By the end of class, you'll feel so amazing you'll start to crave your workouts!
Join Jenine on her journey towards whole health and personal wellness. She can't wait to share it with you!